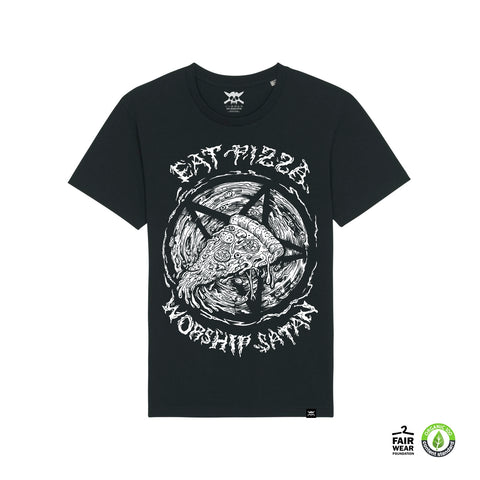 Eat Pizza T-Shirt (Black/Organic Cotton)
If you are not sure about your size, we 've got size charts right here.
Pickup currently unavailable
Hey there, trendsetter! Ready to spice up your wardrobe with a touch of rebellious charm? Look no further than our organic cotton T-shirt with the cheeky and unforgettable phrase, "Eat Pizza, Worship Satan." It's the ultimate blend of devil-may-care attitude and laid-back comfort, all in one eco-conscious package.
Crafted from the softest organic cotton, this tee is a symbol of your unique style and your commitment to sustainability. With a relaxed fit and breathable fabric, it's perfect for lazy Sunday afternoons, spontaneous outings with friends, or even as a statement piece for your next casual hangout.
Let your inner rebel shine through with this bold design, whether you're a pizza aficionado, a devilishly delightful soul, or simply someone who loves a good conversation starter. Express yourself fearlessly and let this T-shirt do all the talking while you enjoy the finer things in life.
Join the movement of fashion-forward free spirits and grab your "Eat Pizza, Worship Satan" organic cotton T-shirt today. Who knew making a statement could feel this good?


Pure Black Color
100% Organic Cotton T-Shirt
Very smooth and soft surface
Thin rib collar
Necktape
Tubular fabric
Unisex
Regular fit